About The Himelsein Group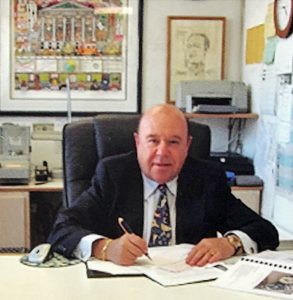 Upon completing his formal education in Johannesburg, South Africa, Leonard Himelsein started a career in retail management with a prominent national retail department chain. His ability to develop uniquely innovative merchandising programs escalated him to top management, which soon won him the respect of the business community and stimulated his natural entrepreneurial spirit.
During the period 1968-1980 Mr. Himelsein founded several successful business ventures including Taj Mahal, a precious metals manufacturing company, Himelsein Diamonds, a precious stones manufacturer and distributor and Czar Jewelers, a jewelry chain. Under his Managing Directorship, Taj Mahal developed into one of the foremost organizations of its kind in Southern Africa. Its rapid growth and success allowed the company to expand internationally into the United Kingdom, Germany, Switzerland, Italy, Spain, Canada and the United States.
His flair as an international business entrepreneur prompted him to immigrate to the United States with his family in the early 1980's. Mr. Himelsein resides in Santa Barbara, California where his interests now include international high technology, diamonds, mineral trade, real estate investment and venture capital.
The Himelsein Group of Companies employs over 200 people. Mr. Himelsein serves on the board of several companies, which also includes being President and Chairman of national and international boards.
Leonard Himelsein has been very active in community affairs and serves on the board of several committees. An indication of his sense of commitment and social responsibility is admirably demonstrated by his membership of The Inner Circle Of The Senatorial Committee of the US Republican Party, a privilege that led to his invitation to the White House to meet President George Bush, Sr. on several occasions. He is the founder of the Leonard Himelsein Scholarship Foundation, which benefits the National Cancer Foundation and also the Razot, Lev Eliyahu Institute founded by the Leonard Himelsein Foundation.
Mr. Himelsein is a member of the University Club of Santa Barbara, the Santa Barbara Yacht Club, the United States Power Squadron, the National Collateral Lending Association and the Santa Barbara Jewelers and Watchmakers Guild. With his love of Diamonds he continues and proudly remains a member of the Diamond Club of South Africa and the World Federation of Diamond Bourses.